They're quite the nuisance, aren't they? Leg and facial veins are bothersome at best, unattractive at worst. Fortunately, with cosmetic laser treatment, you can make yourself look and feel a whole lot better— often time with as little as only one or two visits!

Cynosure lasers are safe and effective on all skin types. Here are some examples of the type of results you can expect: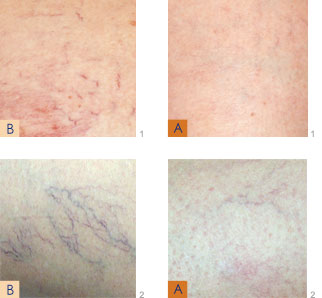 1. Courtesy of E. Tanghetti, MD
2. Courtesy of R. Adrian, MD
Non-invasive, fast, safe and effective treatment of unsightly vascular lesions from fine facial veins, telengiectasias, spider veins, small vascular birth marks to larger leg veins (3mm). No injections or incisions and patients can resume normal activities within minutes of treatment.
Call us for a free consultation or Click here to get more details about Elite Laser System