Almost everyone has unwanted hair somewhere on their body. Unfortunately, traditional hair removal routines can be tedious, painful and expensive over time. Shaving may last a day, waxing a couple of weeks, but none of them last forever—and therein lies the true beauty of laser hair removal.

Cynosure lasers are safe and effective for all skin types. Here are some examples of the type of results you can expect: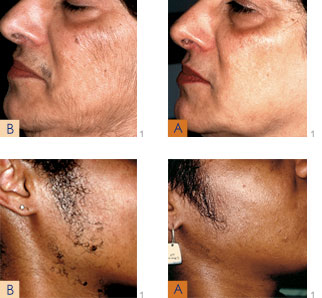 1. Courtesy of B. Jackson, MD
The revolutionary Cynosure Elite aesthetic laser is the most comprehensive laser hair removal system available today, removing unwanted hair with unsurpassed efficiency while maintaining client comfort. This innovative new laser combines two different laser wavelengths in one system, allowing practitioners to target and remove hair on any type of skin, on any part of body. Cynosure Apogee Elite Laser Systems combine two laser wavelengths considered Gold Standard for hair removal in one machine that maximizes permanent hair reduction for all skin types.
Call us for a free consultation or Click here to get more details about Elite Laser System