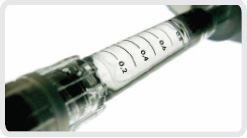 Dermal Fillers
Aging skin loses natural support structures that keep skin supple and youthful. As the years go by, collagen and elastin diminish within the skin, and this can result in wrinkles and creases.
Dermal fillers helps replenish this loss. These products have been developed to smooth out lines and wrinkles, shape and contour facial features and add volume, creating a more youthful look. Dermal fillers are injected through a small needle and through the skin.The procedure is simple and convenient and can be performed during lunch hour. You'll see the results right away and these results last up to a year or more for most people.
The first and only HA fillers developed and manufactured in Canada
The Revanesse family is a collection of hyaluronic acid dermal fillers that are used to treat the signs of aging. The Revanesse line incorporates Thixofix cross-linking technology resulting in high quality products that are safe and long-lasting.
RADIESSE® dermal filler is made of calcium-based microspheres suspended in a water-based gel. RADIESSE dermal filler is the ideal choice for total facial contouring.
905-721-7707